We've been collecting alphabet letter toys and play-based phonics tools for years. Teaching my two oldest girls to read was definitely a highlight in my homeschool momma journey. No doubt.

And despite the hard journey with our youngest son, I've really been looking forward to teaching him to read.
I mean, this kid has been obsessed with the alphabet since he was 2 years old. That should be a HUGE advantage for sure. But…
Here comes the but…
He's been very resistant to "formal" (mom-imposed) learning. So because of this, I've had to be very strategic in my approach.

Like, bend-over backwards creative. Maybe you can relate?
Got Kids Who Don't Want to Learn? Find Fun Tools
If you have a child who's resistant to learning, save yourself some heart ache. I've got you.

Today I'm sharing some of the most engaging play-based phonics tools that we've used in our homeschool.

And if you're a momma who's looking for fun ways to engage a younger kiddo in play-based learning, this post is going to be very helpful as well.
Engaging Is Key With Learning
Each of the following play-based phonics tools supports language, spelling and reading skills in fun and engaging ways.

In the end, remember that engagement and internal motivation is key when it comes to learning. Nothing beats it. True story.

RELATED POST: My Child Hates To Write- 17 Homeschool Writing Tips
6 Play-Based Phonics Resources To Use At Home
Ok, Friend. Let me start with the classic. The Leap Frog Letter Factory series.

Girlfriend, this is educational screen time at its best. No guilt over this screen time. Promise.

I found this series 11 years ago when teaching my oldest to read. She'd hit a wall in her motivation learn (probably because she was too young to have mommy pressuring her into academics).
I remember that a veteran homeschool mom wisely told me that it was time to "back off" my child.
"She is so young. Give her a break and make learning fun."
She was right. One of her suggestions was the Leap Frog Series. My girls loved them. Winner! Winner! Chicken dinner!

So when my son came around 4 years later, it was a no-brainer to use them again.
How To Use Leap Frog's Learning Video Series
This Leap Frog video series originally began with the Letter Factory. I recommend you start with that one first because:
It lays a solid foundation in the basic consonsant sounds.
Additionally, it includes all of the short vowel sounds.
Once your child is solid on his or her basic alphabet sounds (phonemes), the next Leap Frog video I recommend is The Talking Words Factory.
The Talking Words Factory teaches children that when letters are paired in different combinations they make different sounds. Specifically, The Talking Words Factory introduces:
Simple word building: CVC (consonant-vowel- consonant) words

cat, rat, sat, hop, jet, set

blends (st, cl, bl)
as well as the introduction of the silent e
Once your child is ready for the next video, move on to The Word Caper.
I love these Leap Frog videos so much because they really do lay a solid foundation for reading and are so engaging. Once you've explored the The Letter Factory and The Talking Words Factory, it's time to move on to The Word Caper.

It moves beyond the basic letter sounds, and simple word building and begins to teach vowel teams and digraphs.
Long vowel sounds (vowel teams) include such as ea and oa
Simple Digraphs (two or more letters when combined make a unique sound)
Leap Frog Letter Factory For Special Needs Learners
I want to point out that while Leap Frog's video series targets preschoolers, it's an excellent learning tool for those with special learning needs or older kids who need extra reading support.

For example, among other things, my son has a very significant speech and language processing delay. We've been using the Leap Frog series with him since he was 2. He loved them then and at that time, the series gave him a strong interest in letters and their sounds.
Older Kids Can Benefit From Leap Frog
Now that he is 7, we've circled back to them as the traditional homeschool curriculum isn't working for him as is. To that end, we're now using them as an instrumental tool to develop his reading and writing skills.

Ultimately, these can be used for any child who needs to strengthen their basic skills. (Ultimately, age doesn't matter. Always focus on the next step in your child's educational journey. That next step is always based on YOUR child's needs and NOT artificial benchmarks.)
Play-Based Phonics With Leap Frog
All three Leap Frog vidoes provides a multisensory approach to learning. Using multiple areas of the brain to receive and process information is key to retention of new information. Leap Frog Company does a great job to provide this!
Leap Frog As A Multisensory Play-Based Phonics
Visual Input

The use of imagery allows the child to receive phonics information visually.


Auditory Input With A Focus on Rhythm

Song and rhythmic chants hit the the musical and auditory areas of the brain.


Kinsethetic

If your kiddo is anything like mine, the dancing alone will support long-term memory.
The Leap Frog Series has since expanded their DVD series to include many more subjects including numbers, shapes, vowel-teams, digraphs and more. The story lines engage and support your child's early learning.
I love this sticker set of ABCs and Numbers from Melissa and Doug. It contains multiple sheets of letters designed in a variety colors, font styles and prints. These sticker sets can be used in a variety of phonics activities such as:
Simply say the phonics sounds aloud and have your child choose and stick the correct letters to spell words;
Spell your child's name on a large piece of paper. Then have him identify the letters (visual), peel them (kinesthetic), and stick them on top of the hand-written letters.
Have your kiddo choose his own words to stick and spell…
These stickers peel easily without ripping making these a great choice for littles needing fine motor skill practice.
When he was into trains, we spelled the names of the Thomas & Friends trains. This Melissa and Doug resource can withstand the beatings that come from being used by young kids.
My son loves using the stamps to "spell" his name and the names of our family members.
I also like these stamps because the set includes basic punctuation marks and numbers. Therefore, it can be used for years and in a variety of ways. The numbers are an added bonus for obvious reasons.
Fine Motor Skills & Phonics Tools
Always use your child's interests to drive learning.
Practice Letter Name Identification
Practice Letter Sound to Letter Symbol Correspondence
Word Building by Copying
Spelling By Sound (once simple sounds are mastered)
Number Recognition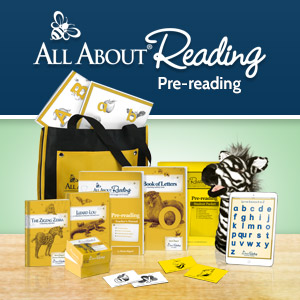 When your child is ready for formal reading instruction (don't rush), you'll another great resource is All About Learning Press. This company supports phonics, reading and spelling instruction using the orton-gillingham method of instruction.
The program is created for the homeschool teacher in mind, so there is never a need to worry about "not being a teacher." Any homeschool parent can pick up this program and teach reading and spelling with confidence.
RELATED POST: Orton-Gillingham Method & All About Reading
Fun Play-Based Phonics Activities In Your Home?
What about you, Friend? What play-based phonics tools and activities do you and your kiddos enjoy? Do you find it challenging to get your child interested in learning?
For tips as to how to engage your preschooler or younger child in learning, check out this post. Tips For Teaching Preschoolers. (Hint… this principle works for all disinterested students and adults. Goes back to interest-based learning.)
RELATED POSTS: How To Help A Struggling Reader: The Mother of All Guides