If you're parenting an anxious child, you're not alone. Awhile ago, I posted the following question to a private Facebook group primarily made up of moms.
If you could solve one major problem with your child, what would it be?
The answers to that question revealed a lot of common issues that parents are facing. However, the number one underlying issue these moms were facing was related to parenting an anxious child.
---

Childhood Anxiety Is Pervasive
I don't think this comes as a shock with all that is going on in our world these days. Whether your child has a formal diagnosis or not, so many of us are parenting at least one anxious child. So how do we help our kids navigate and overcome anxiety?


Parenting Anxious Kids: Silver Lining?
Perhaps the one silver lining of raising an anxious child is knowing that our children are not alone in this. The more we moms speak up about the need to support our anxious kids, the more we can work together to best support them.


Demands on Anxious Children & Parents
Whether the demands of virtual school or work, social pressures, or a world-wide virus, kids and parents are stressed out. And the reality is that coping with anxiety is hard enough on adults. For children who lack maturity, experience and vocabulary to best cope with it, anxiety can be downright devastating. So as our children begin to show signs of anxiety in greater numbers, we need to take note.


Anxious Teens In My Own Life
At one point, I was leading a group of 9th grade girls in a study about their Identity in Christ. Many of these sweet girls shared about their stresses at home and with school. As I looked around this table of 7 typical teenage girls, it hit me. Every single one of them struggled regularly with anxiety (and this was before 2020 hit). Friend, we are not the only ones parenting a child with anxiety.


Anger or Anxiety?
You may be thinking,
"I am not parenting an anxious child. My child is just disobedient and angry."
Here is the reality. Anxiety in children does not necessarily present the way we often think.


What Are The Signs of Anxiety In A Child?
When children are anxious it can show itself in many ways. If we are not careful, we can exacerbate anxiety. We need to learn to recognize it.
A child who is throwing a "temper tantrum"

A student who appears to be checked out in class,

Tween girl who is struggling to keep up with school work,

Student who bombs a spelling test that they were confident about the night before,

The child who complains of headaches and stomach aches,

A kid who cannot sleep at night


Anxious Kids Need Parents To Be Intentional
Often in our culture, adults see these types of behaviors as willful. We demand that a difficult behavior stop without finding the root behind it.
"Stop biting your nails. It is a disgusting habit."

"Keep your hands to yourself or you will lose recess."

"You are so irresponsible. You forgot to turn in your homework again!"

"Snap out of it! I told you to pay attention!"
These "difficult" behaviors are most often symptoms of fear, shame, embarrassment and anxiety. We must be intentional to see these painful times as opportunities. We can use these anxiety-driven moments to equip our kids with the tools they need to work through their stress.

RELATED EPISODE: Meltdowns & Self-Regulation For The Family



Anxiety Needs To Be Released Not Ignored
Because most children do not have the vocabulary to identify what they're feeling, they often act out negatively. These outward symptoms are simply a reflection of those emotions. When we notice these behaviors in our kids, we need to pause.

Like us, our children experience thoughts and big feelings daily. By taking a moment to breathe in order to seek the root causes of harder behaviors, we can better equip our kids with what they need to move forward.



6 Resources To Help An Anxious Child
Here are 6 tools to help you help your child overcome anxiety. These support children in their understanding of their own thoughts and feelings. When we give our children a vocabulary to describe and understand their physical sensations, thoughts and feelings, we give them an incredible advantage.


1. Turn Around Home-based Support For Kids
Turnaround: Turning Fear into Freedom by David A. Russ, Ph.D. & Christopher T. McCarthy, M. Ed. is a phenomenal program. Several years ago, my oldest daughter suddenly developed severe separation anxiety. Overnight she became paralyzed with fear and could not leave my side for more than two months. Because her fear was so intense, we immediately began Christian counseling. It was then that her counselor recommended Turn Around.


Story-Based Childhood Anxiety Support For Kids
This is a 10-day program. Each day includes an audio and workbook component. The story follows a group of children as they attend camp. Each of the characters struggle with some area of anxiety. Following the audio session, there are workbook exercises for your child to complete. There are written and drawing exercises that help kids label and illustrate their fears in various ways.


Success With Turn Around Anxiety Program For Kids
My daughter was 12 years old when she used this set of materials. While she was very apprehensive when she started, she felt relief after the first day. By the end of the ten-day program, she was much better able to combat her anxiety. Turnaround: Turning Fear into Freedom is recommended for children ages 6-13. I highly recommended it to moms parenting an anxious child.

Praise God that my daughter was quickly diagnosed with PANS (Pediatric Acute-onset Neuropsychiatric Syndrome). She was treated and is back to her old self. If you notice sudden-onset severe anxiety, aggression or OCD-type behaviors, please talk to your child's doctor.

RELATED POST: PANS and PANDAS


---

When parenting an anxious child, using the Zones of Regulation chart can be incredibly helpful. This tool was developed by an occupational therapist and educator, Leah Kuypers. The Zones of Regulation program contains a simple chart made of color bands that represent specific feelings and thoughts.


Visuals Support Kids In Emotional Regulation
The Zones provides a visual representation and vocabulary for various emotional and physical states. This helps anxious children develop the ability to release and communicate that which they are feeling.

RELATED POST: Zones of Regulation At Home


---
3. The Anger Iceberg
The Anger Iceberg is a visual tool. It helps children understand the multitude of ways that anger displays itself. All adults will benefit from understanding that anger and difficult behavior is just a symptom. Anxiety and fear is often the root of anger and rage. By simply discussing the anger terms, parenting an anxious child will be less intimidating.


How To Use The Anger Iceberg With Your Anxious Child
Choose to discuss a few "anger" terms at a time.

If your child does not know what a term means, explain it.

Share a story from your life that applies to the specific anger word.

Simply engaging in conversations will deepen connection with your child.
This, My Friend, is often the best medicine for anxiety. There is power in knowledge and relationship. Check out Dr. Curt Thompson's book Anatomy of the Soul to understand more about the importance of connection and it's impact of the well-being of kids.


---
---
4. Anxious Kids: Understanding Their Identity in Christ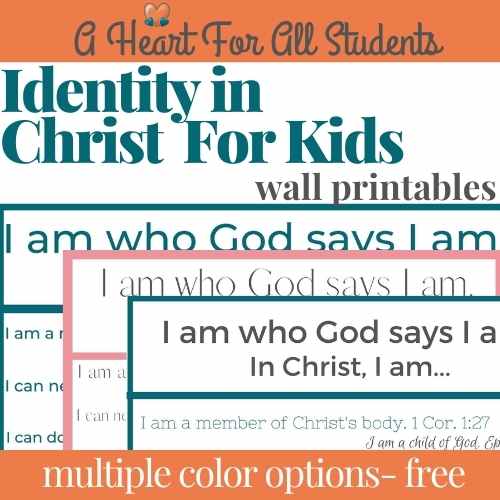 So often we talk to our kids about their identity in Christ and yet we fail (me included) to clearly explain what that means. When our kids know what it means to have an Identity based on what God says and not based on what the world tells them, they're set up with a solid foundation. For tools and ideas to help our kids know what it means to have their Identity in Christ, check out the following post. And download the FREE Identity In Christ Printables as well.

RELATED POST: Identity in Christ For Kids & Free Printables


---
5. Homeschooling The Unregulated (Anxious) Child

If you're homeschooling an anxious child, I can't more highly recommend this parent training. I recently presented Homeschooling The Unregulated Child at the 2020 NCHE Summit For Teaching Exceptional Students and it's now available for you.

In Homeschooling The Unregulated Child, you'll learn all about God's design of the brain, the sensory systems, and how our kids' behaviors tune us in to underlying anxiety. I then share how to best equip your child to thrive as exactly who God has designed them to be. It'll be sure to equip you to begin moving the needle forward for you and your child.


---
6. Devotional Series For The Mom of An Anxious Child
Friend, let me encourage you. God has chosen each one of us on purpose to raise our kids during this delicate time. You are exactly the right mom for your child even when you don't do it perfectly.

In this 5 day devotional and video series, I walk alongside you to support you as your support your child through the hard and messy of anxiety and hard behaviors. Access the entire series and the prayer journal completely free.


Parenting An Anxious Child- In This With You
Friend of an anxious child, give yourself grace to do the best you can to love your child well during these hard seasons. God is in this with you and He loves your child fiercely. Would love to hear from you. We are in this together.

RELATED POST: 5 Tips To Help Your Child With Selective Mutism & Childhood Anxiety


---


Disclosure: As an Amazon Associate, I earn from qualifying purchases. I appreciate your support.